| | |
| --- | --- |
| Title | Sheer Panties & Kristi's Kitty |
| Status | Remastered - Final |
| Photos | 94 |
| Slips | 2 |
| Outtakes | 11 |
| Animated Fun | 24 |
| Videos | 1 |
| Runtime | 00:08:46 |
| Release Date | 2017-10-09 |
Sheer Panties & Kristi's Kitty
Kristi Kitty
---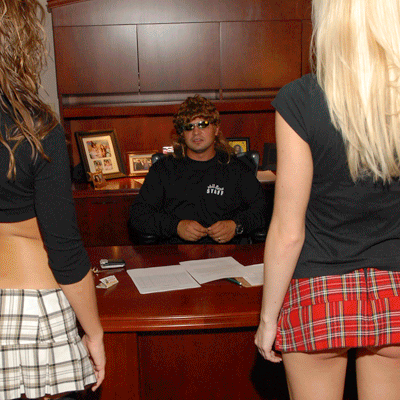 There are some interesting and naughty details about this Face Down Ass Up University Yearbook set, featuring Kristi Kitty, or maybe I should have said... Kristi's kitty. First item of interest... my video camera caught her several times, doing completely obvious package checks, which seem to me at least, to be quite a turn on for her. Another naughty detail, that I didn't notice during the shoot, was when she was nude and rocking back and forth on all fours in a chair... when she would go back, her pussy would make contact with the arm rest, it was apparent that she was getting some feel good moments in. Then, there is a part where she reaches between her legs, and appears to be covering herself up, but I am certain that this "cover up" was a disguised way to give herself a pussy pinch... yes... she is a pussy pincher. My last naughty detail, is towards the end of the video, she was turning her ass towards the camera alot, but stopping short of giving up the goods... it had seemed as if she was dying to show the kitty, so much so, that she was on her ninth life! haha Well... the kitty cat didn't die, and the naughtiest detail about this set, is the glimpse of Kristi's kitty, caught on video.
After she said that, it got quiet, really quiet, and you all know what that means... I just got mind fucked, and the thought of "staying in her room", messed up my train of thought... big time! Looking back at the video, it took me 20 seconds to recover, and finally speak again... and THAT... is awkward!
Kristi's schoolgirl uniform was not only eye candy... it was a mental turn on as well. The combination of white knee high socks and platform stripper high heels, has an incredible and stimulating effect on the brain. Move the eyes upward, and we see Kristi's sexy gams and a micro mini skirt, which barely covers her ass. Finally, we have her white blouse, which at first glance appears to be pretty normal, but it's not. When Kristi takes off the skirt, you will notice that the blouse and extremely revealing sheer thong, is a one piece... it's all in one, and there is SOMETHING about this that is really hot, I just don't know how to put words to it! Did these details stimulate your brain, or not?
A meaningful collection is built over time, with hard work and experiences.
Animated Fun Showcase Sheer Panties & Kristi's Kitty
Animated Fun Disclaimer: Please be advised that the animations I created here are for fun. They may or may not depict actual events. They are strictly for fun and fantasy.
Designed for All Devices
All phones, tablets, laptops, desktops, cinema screens, and HDTV's
The Platinum Pass:
☆☆☆☆☆
---
* The Platinum Pass Site List: brattybrittany.com, facedownassupuniversity.com, meganqt.com, nextdoornikki.com, phil-flash.com, taylortwins.com, teenkasia.com, tiffanyteen.com

| | |
| --- | --- |
| Updates | 2,285 |
| Girls | 70 |
| Photos | 277,852 |
| p-f's Secret Stash | 73 |
| Selfies | 47 |
| Outtakes | 844 |
| Videos | 2,793 |
| Webcam Videos | 220 |
| Webcam Screenshots | 916,206 |
| Animated Fun | 2,500 |
| Sites * | 8 |
Choose Your Membership: Epoch w/PayPal
---