Model Data Bratty Brittany
---
Content Table

| | |
| --- | --- |
| Updates | 2 |
| Photos | 148 |
Bio Table

| | |
| --- | --- |
| Country | U.S. |
| DOB | March 29 |
| Age | 18 |
| Height | 5' |
| Weight | 100 lbs. |
| Bust | 30-A |
| Shoes | 5.5 |
| FDAU Class | Sophomore |
Bratty Brittany
2 Updates, 148 Photos
---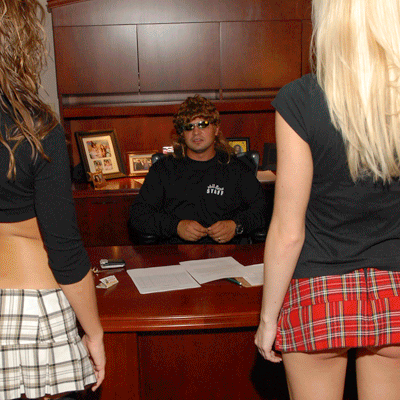 Bratty Brittany is the brattiest little fucker I have ever met! First she is later than hell to her test shoot! Once she finally showed up, she wore black combat boots, black spandex zip-up thigh highs, a jean skirt, a pink t-shirt with Barbie written across her lovely lack of a rack, and a black baseball cap with long dark fuck me right now hair. My first thought was—you little mind fucking temptress tramp!
---
---
Brittany is 18 years young and just ripe enough to exploit on the internet! This teen girl hit me up with an email wanting to model... and I hit her back saying bring your tight little ass!
A little story here... Brittany lived in the Chicago area... so she drove down to my place. At this time I lived in central Illinois. Anyway... I was busy at my office finishing up a shoot with another girl... so I had my wife at the time meet Brittany and book her hotel room.
That evening when I asked my ex-wife how it went... she said... it went good. The girl is ready to shoot for sure... and she said she is really cute. She told me that Brittany was wearing combat boots with black thigh high socks, and a mini skirt.
I was like... OH... interesting... my excitement for the next days shoot grew about 9 inches... LOL!
Brittany got her nick name rather quickly. During the second set that we shot "Candy Brat - Set #2"... Brittany got into my kitchen cabinet and grabbed MY bag of starbursts. She opened the bag, looked into my camera, and dumped them all out. The look on her face was like... WTF are you gonna do about that... LOL
I said... you little fucking brat! The rest of the shoot I was calling her brat, brat-fuck, bratty Brittany, and a few other variations. After awhile Bratty Brittany started to stick. So that is how she got her nickname.
After a few sets... I decided to keep the Brat here for a second day of shooting. She was really hot on cam and liked to tease the lense... so she needed more content shot of her :) So day two of shoot one transpired.
After a few more shoots... I decided to launch a solo site for the Brat called BrattyBrittany.com. The site ran for a few months until one day The brat called me up and asked me to take her site down. She did not want parents or relatives to see the site. This happens a lot... 18 year old girls are like fish out of water... they flip and they flop around all of the time.
So I took her site down... since her exposure was a lot less... she continued to do camshows for my cam network at that time. So there are lots and lots of webcam archives to check out :)
Somewhere around the time of my life changing divorce... I was not able to give the p-f girls the attention they needed... so Brat-Fuck moved onto another webmaster and that ends my story.
A meaningful collection is built over time, with hard work and experiences.
Designed for All Devices
All phones, tablets, laptops, desktops, cinema screens, and HDTV's
The Platinum Pass:
☆☆☆☆☆
---
* The Platinum Pass Site List: brattybrittany.com, facedownassupuniversity.com, meganqt.com, nextdoornikki.com, phil-flash.com, taylortwins.com, teenkasia.com, tiffanyteen.com

| | |
| --- | --- |
| Updates | 2,285 |
| Girls | 70 |
| Photos | 277,852 |
| p-f's Secret Stash | 73 |
| Selfies | 47 |
| Outtakes | 844 |
| Videos | 2,793 |
| Webcam Videos | 220 |
| Webcam Screenshots | 916,206 |
| Animated Fun | 2,500 |
| Sites * | 8 |
Choose Your Membership: Epoch w/PayPal
---